It is my distinct pleasure to congratulate good friend and underwriter extraordinaire Sharon Jenkins, FLMI, CLU, AALU, Legal & General America, who received the Billy Vogel Award from The Marketing Alliance (TMA) at their spring meeting. The Billy Vogel award, TMA's highest honor, is presented to individuals in the financial services industry who distinguish themselves through their business acumen, sense of innovation and, above all, integrity. The award is named for William E. (Billy) Vogel, the late president of the W. S. Vogel Agency, Inc. who exemplified all of those qualities. Jenkins is only the 13th recipient of the prestigious honor.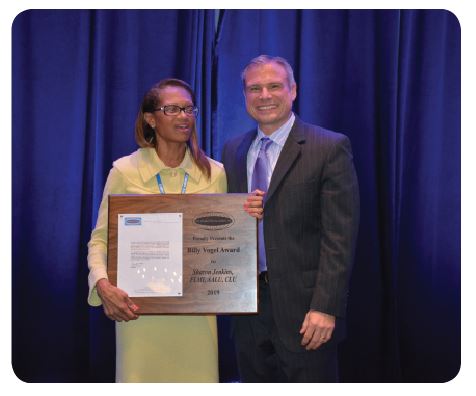 Jenkins earned a BA in business administration from Hofstra University before starting her insurance industry career at the Equitable in 1978. In 1980 she joined William Penn as a life underwriter, learning and growing by working with mentor Otto Maracello. Recognized achievement preceded each move in the underwriting hierarchy, and she was named senior vice president and chief underwriter for William Penn Life Insurance Company of New York in 2006. Since 2008 Jenkins has headed up the underwriting departments for Banner Life and William Penn, leading the underwriting philosophy, practices, policies and procedures, and leveraging technology in the evolution of both automated and system-assisted underwriting processes.

In her current role Jenkins is responsible for delivering technical excellence, value-added services, predictive analytics and risk engineering to increase Legal & General America's presence in the market and support achievement of profit and growth objectives. She directs the Medical Director team and provides technical support on all underwriting matters including advice and counsel on complex risk profiles and financial underwriting, ensures underwriters comply with corporate and regulatory guidelines, and represents the company in risk-related litigation.
Jenkins recognizes the importance of keeping current with emerging medical practices and innovative underwriting techniques, maintaining active membership in numerous professional underwriting associations and traveling extensively to represent LGA at industry conferences and BGA meetings where she is often a featured speaker.
TMA President and CEO Tim Klusas described Jenkins: "This year's recipient is recognized for their business acumen, their innovative resourcefulness, and the integrity essential to help them help you. She is a visionary and passionate life insurance professional, committed to underwriting responsively, thoughtfully and skillfully." In his speech Klusas relayed the anecdote from a colleague of Sharon's who relates her dedication to a time when they were stuck in an elevator one night after work and used the time to spread out the informals she was going to take home that night and reviewed them until help arrived.
While my "business acumen" as it relates to underwriting denies me the opportunity to expand further on her wealth of accomplishments, expertise and resourcefulness, I know Sharon to be extremely well respected in the underwriting field and in the brokerage community overall. She is also one of the most genuine and appreciative people I've met in this business and I'm proud to call her my friend. Congratulations Sharon, on an honor well deserved for a remarkable career in excellent service to the brokerage community. [SPH]