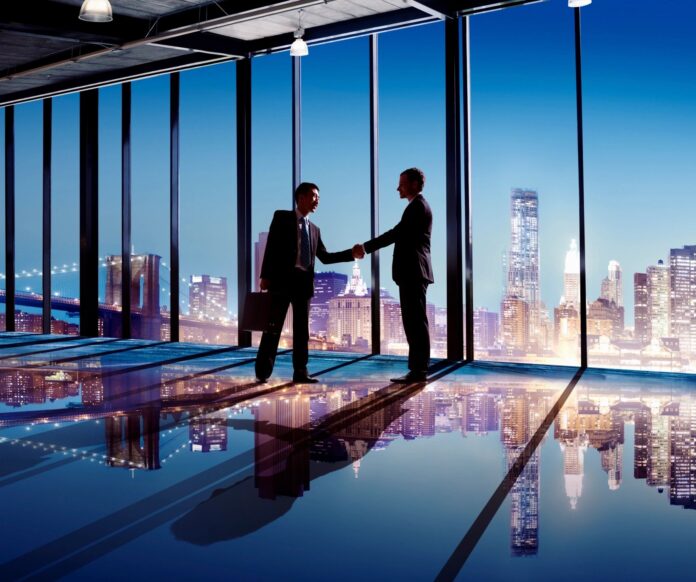 When Brenton Harrison decided to pursue a career as an insurance and financial advisor a little over 10 years ago, he didn't immediately recognize the need for a mentor to guide him through early struggles.
"At the time I thought it was smart for me to just go out and find my own job and not have anybody's help, and I really didn't want any help," he said. One day during his training, however, Brenton happened to run into Marcus Henderson, who owned a practice in the same network. He had known Marcus most of his life and his parents were among Marcus's clients.
Marcus invited Brenton to stop by his office on the afternoons when Brenton's training sessions ended early.
"I would go and sit in on meetings with him, sit in on his phone calls, so I could get a feel for larger cases, for all the different scenarios you can go through that I wasn't going through at that time," Brenton said. "It was my first year in the business, and all I was doing was term life insurance. But when I would go with Marcus I could sit in on a meeting with a person who's trying to negotiate a buy-sell of a corporation. The type of opportunities that I just wouldn't have gotten if I'd had to wait for my own career to catch up."
That began a mentor-mentee relationship that helped Brenton navigate some early-career struggles, led to a thriving career and continues to this day.
An Industry Need for Mentors
The insurance and financial services industry faces a dire need for a new generation of talented professionals. Recent studies found that producers in practice today average between 56 and 59 years of age. Many of these men and women have enjoyed successful careers but are now approaching well-earned retirements.
To maintain its current staffing, the industry needs to bring on some 60,000 new advisors each year, and the U.S. Bureau of Labor Statistics reports that the need for insurance and financial professionals will continue to grow beyond current levels.
At the same time, many new producers find it difficult to get a solid footing in the business. As many as 90 percent struggle to understand the ins and outs of their insurance and financial service careers and wash out in their first five years. Simply put, the industry's efforts to recruit and nurture new talent is not keeping up with the demand.
This is an area where mentoring can make a positive impact. Mentorships pairing seasoned veterans with less experienced producers can dramatically improve the new advisors' chances of beating the odds.
A Calling to Serve
For Marcus Henderson, becoming a mentor was a natural extension of his calling to serve as a financial professional. He had mentors who helped him when he was new in the business and he recognizes their contribution to his success.
"You are a sum total of everything you have gone through to get you to where you are," he said. "My mentors allowed me to see what was possible. All of these guys came through and they gave a little piece of themselves to me. Now, I look back on it and I think that if you're able to have that kind of success, you have to give back."
That's a common sentiment among the top tier of agents and advisors. They have achieved success because they understand the business, are strong communicators and have dedicated their careers to serving the needs of their clients. These also happen to be attributes that make good mentors.
Successful advisors are also passionate about service. They have dedicated their careers to helping clients achieve financial security and attain prosperity. They take pride in knowing that they serve a lofty purpose. For the most successful advisors, their passion also extends to promoting their industry and helping their fellow professionals.
"I see it all the time among our members," said Kevin Mayeux, CEO of the National Association of Insurance and Financial Advisors (NAIFA). "They are some of the most successful agents and advisors in the country. They understand intrinsically that for our industry to continue to thrive we need to nurture a new generation of producers. Mentoring comes as naturally to them as serving the best interests of their clients."
"Everybody wants to give back," said Marcus, who is a 30-year NAIFA member himself. "Everybody who is successful in this business knows that they didn't get to their point of consciousness without going through some things. So they want to give back."
A Positive Mentoring Relationship
But it is important to find the right mentor-mentee pairing, Marcus adds. "Finding that right person is critical. It can't be so difficult to train someone that it's slowing you down, and they're not listening."
Marcus and Brenton say there are several keys to a successful mentor-mentee relationship. First, a mentee should listen and be open to suggestions, even if they don't always use their mentor's advice.
"Brenton always listens," Marcus said. "I don't care what I say, if it's right or wrong, he listens and he will try it for himself, he will improve upon it and keep moving forward."
"There is immense value in talking to somebody who's been where you're trying to go," Brenton said. "It doesn't mean you have to build the exact same practice they do. But it gives me the opportunity to figure out some pieces to that journey that I can break off and apply to my own life that I wouldn't have known if I didn't have this person in front of me."
Second, the mentee needs to understand that there are limits to the relationship. For example, there are times when the mentor may not be available.
"From the mentee's perspective, because your mentor is going to be busy you have to know when it's time to get out of the way," Brenton said. "Every minute of the day can't be the time for your learning experience. You have to make sure you're not impeding their progress."
Finally, it's important for the mentor to offer guidance, but understand that in the end the mentee must make his or her own success. They may not always agree with you, and that's alright.
"You've got to recognize that your mentee is growing and becoming someone else," Marcus said. "You've got to let them grow and you've also got to respect and recognize their growth."
Mentee Becomes the Mentor
Marcus and Brenton's mentoring relationship has been an unqualified success by all accounts. Early on, Marcus invited Brenton to join his firm, and they continue to build a thriving practice with a national clientele at Henderson Financial Group based in Brentwood, Tennessee. Brenton is in line to eventually take over the firm.
Marcus admits that these days he often learns as much from Brenton as he teaches, particularly when it comes to using technology and modernizing the practice. They have grown from serving regional clients and relying on face-to-face meetings to serving clients across the country via Zoom video conferences and exchanging paperwork using digital systems.
Brenton has grown up with technology and has an easier time understanding how it works and how it can benefit the practice, Marcus said. And it shows that mentors will often find that they receive practical benefits out of their mentorship, beyond the satisfaction of helping their industry and the younger generation of producers.
Brenton has also developed marketing ideas that have expanded the firm and opened new client prospect pools. He credits Marcus with teaching him early in his career to focus on areas that improve service and generate revenue. He has taken his ideas to Marcus for approval, and they have implemented them together to benefit the practice.
"The mentee becomes the mentor if it's done right," Marcus said. "That's when it becomes beautiful."