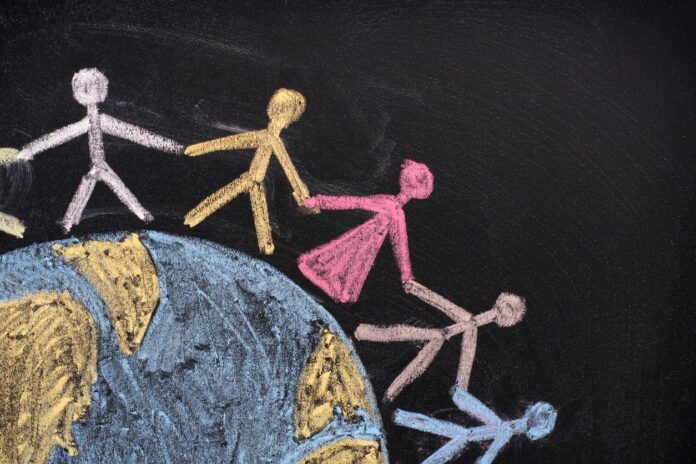 At OneAmerica®, we believe in building a better future for our customers, our associates and the communities where we work and live.
As a company, our mission is to help our customers build and protect their financial futures through life insurance, retirement plan products and services, annuities, employee benefits and individual insurance, and asset-based long term care protection. Our legacy began more than 140 years ago in the heart of our country, and it lives on in the hearts of the people we're committed to serve.
From the beginning we've also been committed to the communities where our people live and work. For decades we've teamed with like-minded organizations to improve the quality of life in our shared community through advocacy, volunteerism, civic leadership and philanthropic giving. Together with The OneAmerica Foundation we strive to create a culture of growth and vibrancy that enriches people's lives, expands their horizons and offers opportunities for prosperity and success—not just for our associates and business partners, but for all people.
Our businesses are driven by the shared vision and values summarized in our ASPIRE statement:
Achievement—through discipline, effort and skill
Stewardship—protecting and managing
Partnership—building trusted relationships
Integrity—doing the right thing
Responsiveness—identifying and resolving customer needs
Excellence—developing our people and improving operations
These values have been instrumental in shaping the OneAmerica internal culture, its external services and its involvement in the broader community. OneAmerica has provided insurance services to households and businesses around the country and around the world. But it has also remained deeply committed to serving its local communities. Although our roots are in the Midwest, the sustained growth of OneAmerica means we have been able to expand our impact to communities from coast to coast as we've grown.
Our tradition of corporate citizenship is one we are proud of and one we take seriously. We're continuously looking at ways to build upon our tradition and maximize our impact.
Alzheimer's and the need for planning
One of our newest—and for us, most exciting—relationships is with the Alzheimer's Association. As professionals working every day to help families prepare for their financial future, we see the real-life stories behind the statistics showing the growing number of aging Americans affected by Alzheimer's and other dementias. Like the Alzheimer's Association, we share a message of hope for a world without Alzheimer's and a desire to spread the word about the difference that planning ahead financially can make for a family facing an Alzheimer's diagnosis.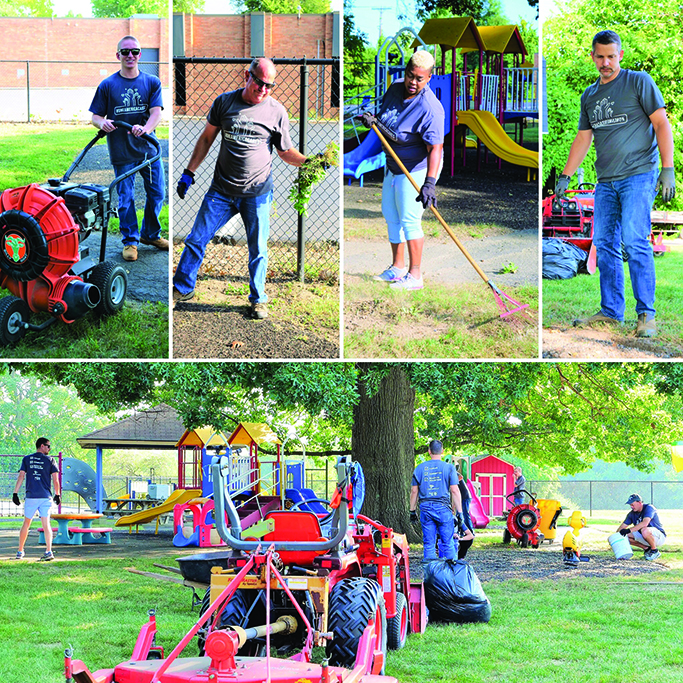 Our national initiative with the Alzheimer's Association will help encourage families to have conversations about long term care before there's a need, and will support planning, prevention and research that gives hope to Alzheimer's patients and their families.
"Regardless of how many assets people have, encouraging those around us to start building their plan for care is a special opportunity we have as financial professionals to help others," said Tracey Edgar, RN, BSN, CLTC, vice president of sales, Care Solutions, OneAmerica. "We have an obligation to help people think of those they care about and plan for their futures. Whether they end up needing long term care or not, planning for that possibility can make such a difference to families. Our initiative with the Alzheimer's Association to encourage family conversations is one way we do that."
This fall, teams of OneAmerica associates and their friends and families participated in walks in their communities nationwide, sharing their stories of loved ones affected by Alzheimer's disease and their own messages of hope. We're working every day on additional ways to become involved and to create resources that anyone can use in their business and their personal networks to share a message of hope, highlighted at www.oneamerica.com/alz.
A week of impact
Over the years, OneAmerica has worked alongside countless organizations to improve communities—first in central Indiana and, as our business has grown, in our new communities.
As we've grown, we've been fortunate to share our community-enriching Week of Caring tradition. The Week of Caring began in 2014, when OneAmerica became the first organization in central Indiana to devote an entire week to volunteer activities. Participation increases each year. In 2019, more than 1,000 associates in Indiana, Maine, Wisconsin and California contributed more than 2,500 hours of volunteer work.
While many companies participate in an annual day of service, OneAmerica finds that a focused, week-long investment of time and talent is the best fit for our culture. It also amplifies our impact.
Over the course of a week, associates choose from a variety of volunteer shifts and service areas and get a broad sense of the many ways we can work as individuals and collectively to improve our home communities. Workers may prepare food for the hungry, tidy up community gardens or assemble clothing and other products for people in need. By volunteering for these efforts, our associates help organizations better focus their resources on mission-critical activities.
The volunteer work mirrors our fundraising efforts. During the Week of Caring, associates get to see first-hand the people and programs their contributions support in our annual United Way giving campaign. These communities are our homes, and we feel a responsibility to help make them better places to live for all.
Our weeklong initiative also gives people in all areas and at all levels of our business a chance to get to know each other in a different context than a typical workday.
"OneAmerica has an interest in bringing people together to make a difference—and to have fun doing it," said Ann Murtlow, president and CEO, United Way of Central Indiana. "The Week of Caring isn't just about team building and recognition. It's about showing how much the company cares."
Beyond these measures of social impact, OneAmerica has further driven to have a positive impact on their local communities through volunteering, giving, and community building.
Building opportunities for all in our communities
In December of 2018, OneAmerica launched its most recent community development initiative, the OneAmerica Pathways Program.
A hybrid community development and workforce development program, this initiative is an evolution of our commitment to building a strong community where families and businesses thrive.
Pathways took hold after the Washington, D.C.,-based Brookings Institution Metropolitan Policy Program published Advancing Opportunity in Central Indiana, which found the availability of good employment opportunities lacking for residents of Central Indiana.
As a leading employer in our community, our first step was to announce Pathways to Sustainable Income, our company commitment that every associate we hire has a clear path to earn a sustainable wage, often stretching beyond market price for a job. It's not a giveaway. Instead, pay adjustments are earned through strong performance over a three-year period.
Next, we started looking at the next generation of workers—the young men and women whose energy and ideas we'll need to stay strong and succeed in the years to come. This summer, we hired six high school students as the pilot class of the Pathways Program Junior Fellows.
Applicants were sought from some of the city's most underserved zip codes, and candidates were selected based only on two characteristics: Accountability and desire to learn. Some had part-time or youth-program job experience. None of them had much of an idea what OneAmerica does beyond being familiar with the sight of the tower in the city's skyline. The result was a diverse class of six teenagers, some in high school and some newly graduated, who came from a variety of backgrounds.
They were paired with mentors to guide them through the five-week paid program that included job shadowing, skills development and training.
"We were strategic in identifying jobs that might appeal to new graduates, mostly areas where we have some entry-level positions," said De'Niece Harrison-Hudson, Pathways Program director.
The result was that even though none of the students understood our business at the beginning of the program, by the end of the five weeks every one of them said they would like to work for OneAmerica and could identify a specific area of our business that appealed to them. Although we know they may not all work for us one day, we know we're contributing to our community by preparing workers that can make businesses stronger.
Making people smile
Finally, it wouldn't be community spirit at OneAmerica without a little fun. Another aspect of our community involvement is the tradition of the Indianapolis signboard. Since 1958, the companies of OneAmerica have displayed a weekly quip or pun for the pleasure of employees and the general public. Visitors and residents alike look forward to driving by our signboard to find the latest "punny" message, and those who can't see it in person follow our social media accounts (@OneAmerica on Twitter, Facebook, LinkedIn and Instagram) to like and share the messages.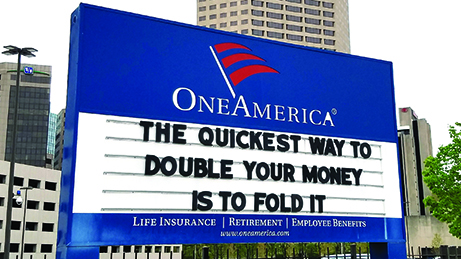 While the outcomes of this community activity may not be much more than smiles and chuckles, the signboard is one of the many ways we who work at OneAmerica strive to have a positive impact on the people around us every day.
OneAmerica® is the marketing name for the companies of OneAmerica.