Let me start by telling you something you already know. The vast majority of seniors do not have long term care insurance. Whether that's because they failed to plan—or plan enough—or thought "that won't be me." In fact, "Someone turning age 65 today has almost a 70 percent chance of needing some type of long term care services and support in their remaining years."1
For this same majority, declining health conditions as they age, or an imminent need for care that could last many years, can raise real concerns about running out of money. Many no longer qualify for long term care insurance.

Callout: Not having enough money to pay for long term care is the greatest fear Americans have about aging, according to a recent consumer survey conducted by Genworth.2
Now let me tell you something you may not know. You can help these clients. A medically underwritten single premium immediate annuity (SPIA) may be part of the solution.
The Power of Underwriting
Unlike a traditional SPIA, which bases income payments on age and gender, a medically underwritten SPIA also considers the impact of the annuitant's medical conditions and level of care in determining the amount of guaranteed income a contract will pay. In essence, the more conditions your client has and the more care they need, the more likely that their medically underwritten SPIA will pay out higher income payments than a traditional SPIA. This income can be used for any purpose, including care, medical or living expenses. Medically underwritten SPIAs can benefit consumers by either reducing the premium needed for a specified stream of income payments when compared to a traditional SPIA or by providing a higher income payment for the same premium. Plus, with a medically underwritten SPIA, there is no need for claim adjudication, no benefit triggers, or any type of annual certification like there is with a long term care policy.

Consider the examples (shown in table 1) of potential clients who may not qualify for long term care insurance but could benefit from a medically underwritten SPIA.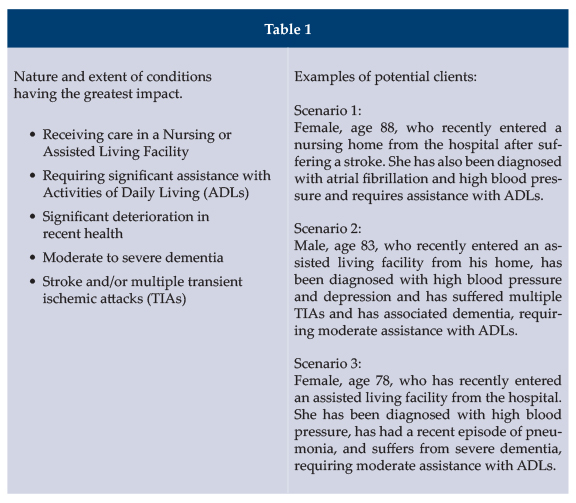 The Underwriting Process
The purpose of the underwriting is not intended to exclude anyone, but rather to determine the amount of the income payments based on the care recipient's (annuitant's) age, gender and health.

Underwriters evaluate the life expectancy of an individual based on his or her health. If your client isn't expected to live as long as a healthier person of their same age and gender, their monthly income will likely be higher. Depending on the carrier, the underwriting process may include a review of medical records and an in-person nurse assessment of the applicant's health. Lab tests are not always required. As a consumer protection safeguard, a carrier may require a power of attorney to purchase the SPIA on behalf of your client if there is evidence of cognitive impairment.
Filling the Gap
When families who haven't planned ahead for long term care are suddenly faced with a loved one needing immediate care, the financial implications can come as a shock—particularly when they realize that Medicare doesn't cover the care they need and they have too many assets to qualify for Medicaid.

A medically underwritten SPIA is one of the few financial solutions where it's more advantageous for the applicant to be less healthy and in immediate need of care, and it can make a finite amount of money last an infinite amount of time—an ideal combination of benefits for filling gaps in providing funds for care and other expenses.

It's a great solution to add to your existing offerings, particularly for clients and their parents who:
Have not planned ahead for how they will pay for care and other expenses and worry about outliving their savings;
Could not qualify for long term care insurance because of health issues and suddenly find themselves in need of care;
Are in declining health;
Want to protect a portion of their assets and hope to leave a financial legacy.
In addition to providing care recipients a guaranteed source of income they cannot outlive, a medically underwritten SPIA can help alleviate the financial strain of caregiving on families. If they wish, family members can pool their resources to pay the single premium needed to purchase the medically underwritten SPIA.

While a medically underwritten SPIA cannot solve all of the care support challenges our country faces, it does help provide a potential solution for a segment of consumers who need care now, but have limited funding options. It can also help those who do have assets protect them by using a portion of those assets to generate the income to pay for care. Either way, our industry is able to help those who previously didn't have other options.

References:
1. 2018 U.S. Department of Health and Human Services, (https://longtermcare.acl.gov/the-basics/how-much-care-will-you-need.html). October 10, 2017. Accessed 09/28/2018.
2. Genworth Long Term Care Omnibus Study, September 2017.
Features and benefits may vary by insurance carrier, state or market.
All guarantees are based on the claims-paying ability of the issuing insurance company.
Consult the annuity contract for a detailed description of benefits, limitations and restrictions for each individual product. The contract terms and provisions will prevail.
The purchase of this type of product may impact Medicaid benefit eligibility or other requirements for Medicaid benefits or any other state or federal government assistance.
Optional features, such as an enhanced death benefit or cost of living adjustment increase may be available and may require additional premium to provide the same guaranteed initial monthly income payment.
Life income provides guaranteed monthly payments during the lifetime of the annuitant, no matter how long he or she lives. Monthly income payments will generally stop upon the death of the annuitant and, therefore, the total amount of payments may be significantly less than the premium paid for the annuity. There may be no minimum number of guaranteed income payments or death benefit associated with the product selected.